I'm putting up this post a little bit early because we've got a really fun post coming up tomorrow. I'm super excited for you to see it! But in the mean time........have any of you done very much embroidery? I did it when I was younger, but then lost interest. But I feel it coming back! I've done a few simple projects, and want to take some of these ones on! If you haven't embroidered before, I hope this inspires you to start!!!:)
Love this embroidered US map. And a little heart where you live: how cute!!! From
Plumed
Etsy shop.
I absolutely love this little camper!!!!! It is SOOOOOOO adorable! I think this might have to be my next embroidery project:) You can by the pattern from
Joann's
online.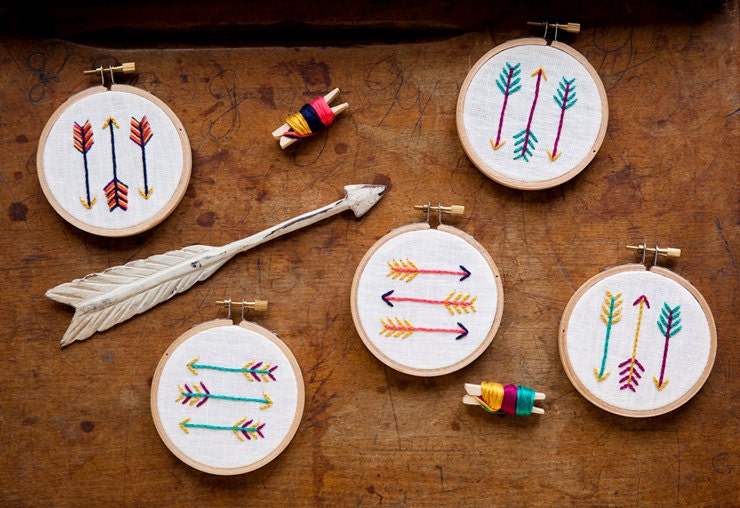 Ok, so maybe this will be my next project. So cute, and super-dee-duper simple. The
Miniature Rhino
has some cute stuff.
Pi
nk Gerger Daisies
made this awesome Aztec-inspired embroidery hoop art. I'd have to agree with her: I love the color combo.
This is probably the most awesome project I've ever seen. What an awesome idea! I might have to make this for a friend who lives a few states away:)
In Between Laundry
gets a double thumbs-up from me:)
Hot air balloons. So whimsical. And with these awesome stitches, it's a winning combination. I hope to one day learn how to embroidery like that:)
Spool and Spoon
officially has my admiration:)
Allison at
Little Lovelies
created this awesome ombre heart cross stitch. It's amazing how something so ridiculously simple can be so cute!
Ok, so this idea might officially take the cake on absolute creativity.
Dana
first painted the squares (I don't know how) and then embroidered the icons. And, no, this isn't just an adorable piece of art hanging by her computer. SHE USED THESE CUTIES ON THE SIDE OF HER BLOG!!! You seriously need to go check it out.
Allison at Little Lovelies
also created this adorable embroidered penant, inspired by the colors of sherbet:)
Well, there is so much more inspiration that I could put up here. But that might be overwhelming. I hope you enjoy this little bit!
~Kelsey